Ankle and foot pain can be debilitating, or at the very least it can interrupt daily activities. These parts of the body are used in many things, from driving to walking to standing. When the ankle becomes injured, it can significantly impact our enjoyment of life by causing chronic pain.
There are many potential causes of injury to the peroneal tendon.
Anatomy and Injuries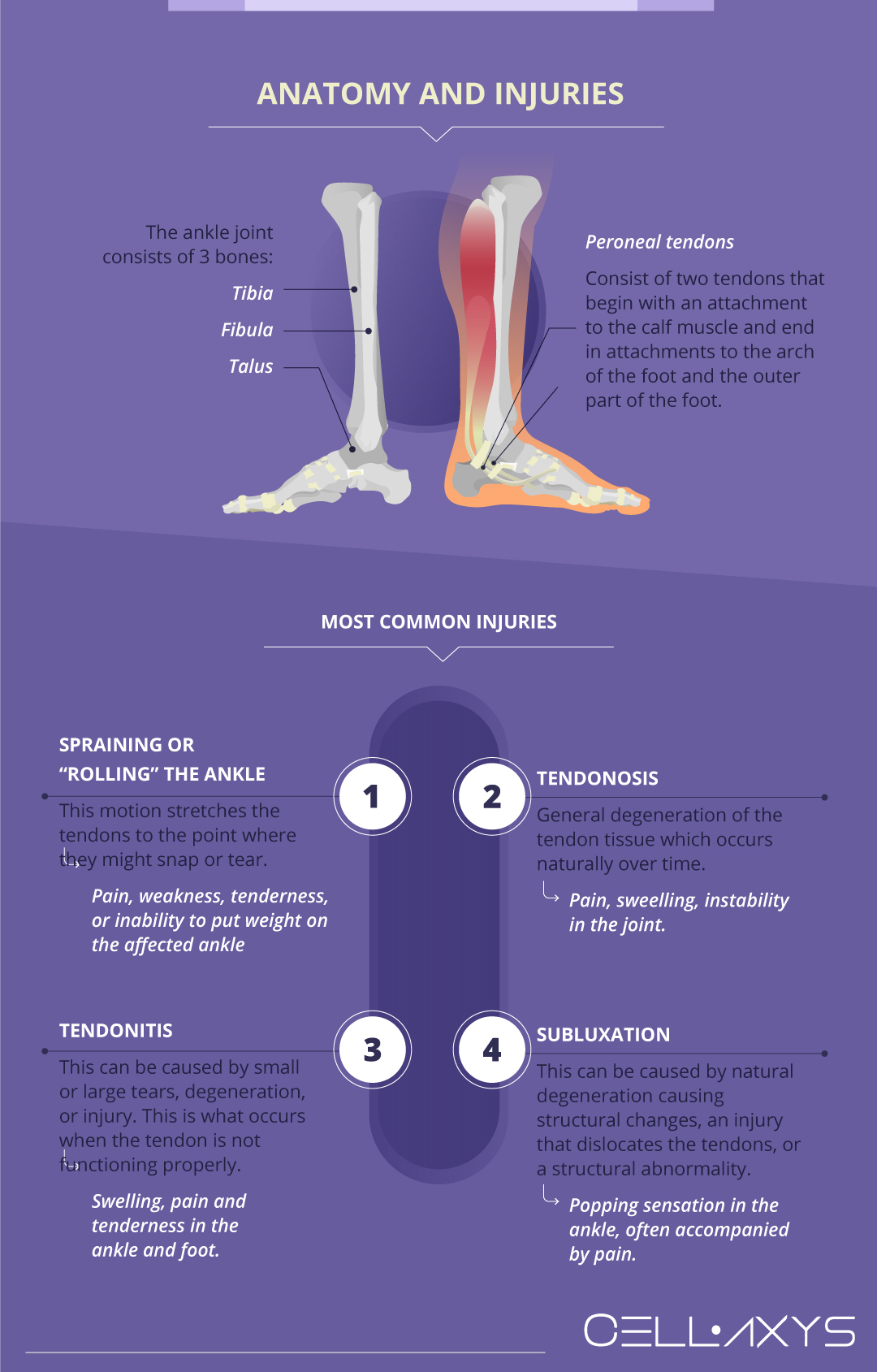 The ankle joint consists of three bones, the tibia, and fibula in the shin, and the talus in the foot. This joint is protected by many soft tissues. Some of the most crucial soft tissues protecting the ankle joint are the peroneal tendons.
The peroneal tendons of the foot and ankle consist of two tendons that begin with an attachment to the calf muscle and end in attachments to the arch of the foot and the outer part of the foot. These tendons are used mainly for arch support and stabilizing the joint, which can prevent injury.
The most common injuries of the peroneal tendons include:
Diagnostic tests can determine the underlying cause of ankle pain, which leads to more effective treatment. 
Each injury has a different treatment plan associated with it, so an individual experiencing ankle pain must be honest with their doctor about where the pain is located and the severity of it.
Diagnosing Peroneal Tendon Injury
Experiencing pain in the foot or ankle may not need immediate attention – many injuries and causes of pain can heal on their own with some rest and anti-inflammatory medication. If the pain persists for longer than 3 weeks and begins to interfere with daily activities, it might be necessary to consult a doctor.
The diagnosis process for tendon injuries begins with a simple evaluation in the doctor's office. This evaluation may include an examination of foot structure, observation of a range of motion in the foot, and a conversation about activity level, family history, and history of traumatic injury. 
Doctors will often ask where the pain is felt, check for swelling, and try out several exercises that may exacerbate pain to pinpoint the source of it. If they are unable to determine the cause of pain with a simple evaluation, other diagnostic methods may be ordered to further specify the source of pain. These include:
Each diagnostic method comes with a list of pros and cons, so doctors will suggest what they think is best for each patient. Some diagnostic methods may not be necessary or possible due to financial constraints or the availability of equipment. 
Many of these methods are effective in diagnosing the injury of the peroneal tendon. Once the injury is properly diagnosed, doctors will move on to devising a treatment plan.
Treating Peroneal Tendon Injuries
Each treatment that a doctor may recommend will be tailored to each patient. Factors that may influence treatment include a history of injury, physical activity level before injury, and lifestyle. Though treatment for each condition is different, doctors will often use the following tools to help a patient recover:
There is an alternative form of treatment that should also be considered. When dealing with an injury of the peroneal tendon, patients should weigh all of the possible options for treatment. The field of regenerative medicine offers a promising method for treating this kind of injury.
Orthobiologic Methods for Treating Peroneal Tendon Injuries
Patients who undergo orthobiologic treatments have a high satisfaction rate, especially for soft tissue injuries such as those to the peroneal tendon. Regenerative medicine is particularly effective in treating soft tissue injuries like the peroneal tendon. These treatments could also help treat other degeneration in the areas in which they are injected.
CELLAXYS offers two types of orthobiologic treatments:
Platelet-Rich Plasma (PRP) Therapy
PRP therapy includes isolating platelets from your blood plasma, processing it, and then reinjecting it into the affected areas. Platelets are healing components in your body that release 10 Growth Factors to accelerate the new tissue growth. They also send chemical signals to attract healing cells from the blood and form a scaffolding for developing new tissues. 
This scaffolding is called fibrin, which is a web-like sticky structure. An increased amount of growth factors and platelets in the injured area can shorten the recovery time and repair the damaged tendons faster. 
Cell-Based Therapies
Cell-based therapies are also known as stem-cell therapies that focus on your own tissues or autologous tissues. These tissues are extracted from your adipose cells or bone marrow. Then, they are processed and reinjected into the injury site. 
Depending on your condition, your doctor will go for one of the two types of cell-based therapies:
Cell-based therapies are performed under anesthesia, which is why they cause zero to no pain. These procedures are completed in 1.5-2 hours. 
These therapy forms are performed by experts as outpatient procedures, meaning that they typically don't take longer than two hours. Some patients have experienced pain at the injection site after the procedure, but this typically goes away in a matter of days and is replaced by a decrease in chronic pain.
Doctors will often use imaging technology such as an ultrasound to ensure that the injection is in the correct place. These treatments can be coupled with other treatments such as physical therapy to allow the recovery process to go even more smoothly.