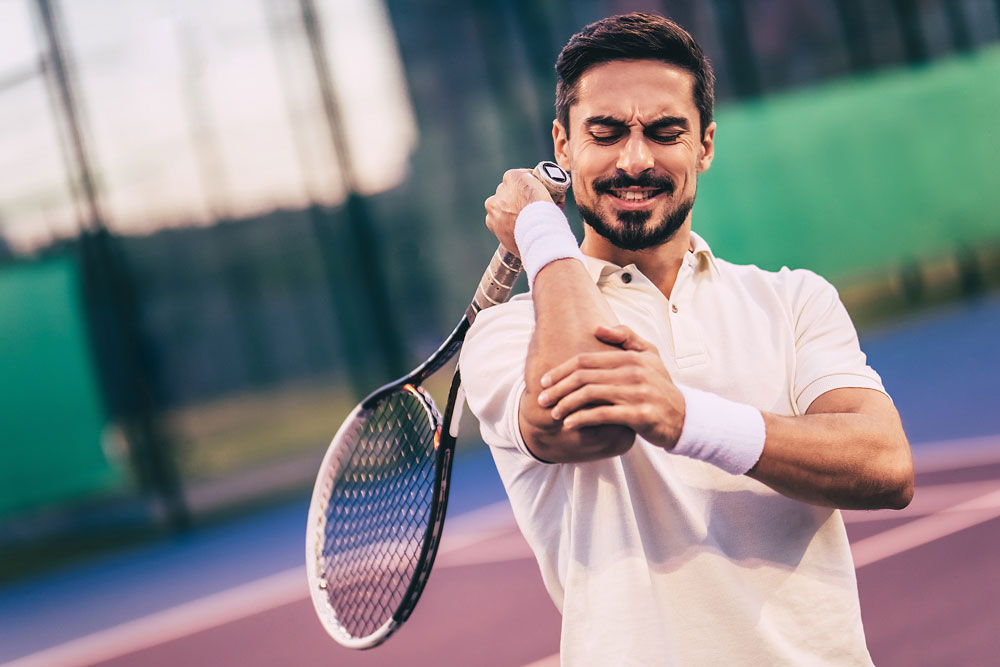 Arthritis is one of the most common degenerative illnesses in the United States and around the world.
Osteoarthritis occurs when joint tissue experiences degradation over time, causing bones to rub against one another. This causes damage to the bones, resulting in pain and other symptoms.
Degeneration of tissues in the body occurs to everyone as we age, but in some cases, it develops into arthritis. The pain caused by this ailment can significantly impact day-to-day activities but often comes on slowly.
It is particularly important that people experiencing joint pain maintain an open line of discussion with their doctor about the pain they are experiencing. Elbow pain specifically can impair many daily activities. It is important to be well informed when potentially facing a diagnosis.
This article will briefly discuss the anatomy of the elbow and what it means to have osteoarthritis, the potential causes of the condition, how it is diagnosed and how it is treated, surgical options, and how regenerative medicine can help.
Elbow Anatomy and Osteoarthritis
The elbow consists of three bones, the Ulna and Radius (in the forearm), and Humerus (in the upper arm). Connecting these bones is an intricate network of joints and ligaments. The elbow joint has a fleshy sac called a Bursa, which is used to cushion the bones to prevent them from rubbing against one another. Tendons and ligaments work together to stabilize the joint and provide structure during motion.
Damage to joints can happen over time, as the body goes through a natural process of gradual degeneration. Osteoarthritis occurs when cushions such as the bursa become so damaged that the bones rub against one another. This can cause pain and discomfort in affected individuals.
Osteoarthritis is generally caused by several factors. These include:
Injury: tendons, ligaments, and other soft tissues can become damaged. Dislocation or fractures can contribute to degeneration and abnormal reformation of the joint.
Natural Degeneration: most cases of osteoarthritis are simply a culmination of structural changes that occur due to degeneration.
People who are at a greater risk of osteoarthritis include seniors, athletes, and people who have jobs that require repetitive motions such as movers or construction workers. Though certain people are at a greater risk of developing it, the symptoms can come on at any time in anyone.
Signs and Symptoms of Osteoarthritis in the Elbow
Elbow pain is not a cause for concern alone but should be closely monitored for changes as pain progresses. Some causes of elbow pain will heal by themselves over the course of a few months. When the pain persists, it is recommended that a doctor visit occurs in order to diagnose the cause of the symptoms. Some common symptoms of osteoarthritis are:
Pain
Numbness in the arm or hand
Tingling sensation
Loss of range of motion or stiffness
Clicking or locking sensation
Some pain can be manageable, but doctors recommend that individuals open up a discussion about their pain when it begins to impact daily life. The progression of osteoarthritis can take months, years, or even decades. It may not be immediately noticeable as problematic. Generally, patients begin to notice when they can no longer extend their arm fully.
It is important that patients who are experiencing chronic pain of any kind provide as much information as possible to their doctors so that they can diagnose the cause of pain properly.
Diagnosis of Osteoarthritis in the Elbow
Proper diagnosis of an ailment is the first step on the road to recovery. Due to the complex and intricate nature of the elbow, the cause of pain is not often apparent without further testing. There are many soft tissues, tendons, and ligaments that could be contributing to pain. Diagnoses can typically be reached with information about the symptoms, and X-Ray imaging.
Osteoarthritis is a condition that affects bones, so X-Ray technology is most commonly used for doctors to reach a diagnosis. Other imaging techniques that are commonly used for other forms of pain, such as CT scans or MRIs, are not often used to diagnose osteoarthritis. If there are overlapping conditions, it may be more useful for doctors to have a complete picture of the joint including bone and soft tissue.
Treatment
If osteoarthritis is diagnosed in its early stages, with minimal degeneration, the first steps of treatment are mostly focused on pain management. This includes:
Painkillers: over-the-counter NSAIDs (Non-Steroidal Anti-Inflammatory Drugs) can help to alleviate pain. They work by delivering anti-inflammatory properties in small doses to the source of pain. Some doctors may recommend that a patient apply ice to the injured area for similarly anti-inflammatory properties.
Activity Adjustment: making slight adjustments of activity, especially for people who are experiencing symptoms due to overactive joints (such as athletes or people with jobs that require a lot of repetitive motion), could alter the progression of osteoarthritis and prevent further damage from occurring.
Physical Therapy: some doctors will recommend that patients undergo physical therapy of the elbow, arm, or hand. The goals of physical therapy are generally to improve range of motion, which may be greatly affected by osteoarthritis, as well as strengthen the muscles which provide support to the elbow. Providing more support to the joint could result in a slower progression of the degeneration.
Corticosteroid Injections: this form of treatment is also anti-inflammatory, but unlike NSAIDs, corticosteroid injections involve placing a very high dose of anti-inflammatory cortisol into the area of pain. This can reduce pain symptoms temporarily but has been proven to damage soft tissue over time. Osteoarthritis symptoms can be exacerbated over time with corticosteroid injections, so they must be closely monitored by a doctor.
A doctor's decision to recommend any treatment plan will be affected by several factors, including:
Patient's activity level
Family history
Willingness to undergo treatment
Severity of pain
Location of pain
Each treatment plan that is prescribed is tailored specifically to each patient with their needs in mind. When these forms of nonsurgical treatments fail to stop the pain, doctors will open up a discussion about surgical treatments.
Surgery for Osteoarthritis of the Elbow
Surgical treatment for osteoarthritis can vary depending on a patient's specific condition. There are several different forms of surgery which a doctor may recommend. These include:
Arthroscopy: this form of surgery uses tiny instruments, typically with a camera involved. These tiny instruments can then remove degenerative issues, bone spurs, and the like which may be contributing to pain. There are many uses for arthroscopy, and which type is used depends on the patient's condition. This procedure is considered minimally invasive, as it employs a small number of tiny incisions. The recovery time for arthroscopy is typically shorter than other forms of surgery.
Joint Replacement: this form of surgery is one of the most invasive forms of surgery which may need to be done on the elbow. It is essentially removing the damaged joint, and sometimes damaged parts of bone, and replacing them with plastic and/or metal pieces. These pieces allow the joint to glide more smoothly once in place, but it may take a long time for the bones to grow into the prosthetic parts.
There are other forms of surgery on the market as well. The surgery types above are simply the most common surgical treatments for osteoarthritis in the elbow.
Any surgery will come with a list of risks and potential side effects. Depending on the nature of the surgery, these may change, but generally, include:
Infection
Heart Attack
Stroke
Blood Clots
Complications with Anesthesia
In addition to the list of risks, the recovery process for surgery can be long and arduous. Many doctors will recommend a regimen of physical therapy alongside surgery, typically starting even small therapeutic exercises within hours after surgery.
The amount of time that recovery takes will vary depending on the patient's commitment to healing, the severity of the operation, and many other factors.
These surgeries are almost always elective, meaning that it is ultimately up to the patient to decide whether or not it is right for them. When facing the potentially life-altering option of surgery, it is crucial that patients are aware of all the potential treatments on the market which could benefit them.
Regenerative Medicine's Role in Repairing Joint Damage
The field of regenerative medicine and therapy is rapidly gaining traction in the scientific community due to its effectiveness. There are two main forms of regenerative medicine offered at CELLAXYS:
Stem Cell Therapy: this form of therapy involves using a patient's own stem cells. The cells are taken from fat (adipose) tissue, blood cells, or bone marrow. The process of extracting stem cells varies depending on which type of tissue they are taken from. Doctors then process the cells so that they are more concentrated. With the newly concentrated stem cells, doctors then inject this into a patient's source of pain or injury. The cells contain healing properties that are used in natural healing processes, so a higher concentration of these properties can potentially improve the healing process.
Platelet-Rich Plasma (PRP) Therapy: this form of therapy begins with a simple blood draw. Doctors then put the blood into a centrifuge to separate the platelets from the plasma. Platelets are a part of our blood which contains proteins and growth factors that are used in healing throughout the body. Increasing the number of these proteins and growth factors may speed up the healing process, or aid in repairing soft tissue.
Both of these forms of therapy are outpatient procedures that take less than two hours. Some side effects include pain in the injection site, but the risk is generally low as they are both using the patient's own cells rather than a foreign substance.
These forms of regenerative medicine are known to help with the repair and rebuilding of soft tissue in the body. It has also been shown to aid in bone growth. The nature of osteoarthritis means that these types of therapy could be particularly beneficial.
Repairing damaged tissue could impede or even stop the progression of the disease, as well as alleviate symptoms that could be impacting daily life. For patients who are experiencing a lower quality of life due to arthritis pain, this may be a viable option. This reparation may also mean that patients who undergo these types of treatments don't need surgery later. Most of the conventional treatment options involve treating and managing pain, but do not seek to fix the cause of pain. These forms of medicine may offer an option that gets to the root cause of the problem and fixes it.
Regenerative medicine can also be used alongside surgical treatments. Some doctors will suggest these forms of medicine to a patient after receiving surgery to help the recovery process.
Surgery can be a life-altering decision, so it is important that patients understand the risks fully. It is also important that patients are aware of all of the treatment options available to them.
Conclusion
The complex anatomy of the elbow means that pain experienced could have many different causes. Diagnosis of osteoarthritis is fairly straightforward, and proper diagnosis will lead to the most effective treatment.
Each treatment plan is specifically tailored to each patient depending on many factors. Conventional treatment options can help with the management of pain and other symptoms but may not repair the damage that is already done. It is important for patients to consider all of the treatment options on the market, as regenerative medicine can offer an alternative, minimally invasive option.
Any treatment option which offers hope for resuming daily activities more quickly, repairing damage rather than removing it and greater enjoyment of life should be considered.