Any injury to the spine can significantly impact the rest of the body parts. Spinal injuries primarily affect the neck, causing chronic neck pain and even paralysis in the worst cases. The exact impact of the injury depends on various factors, such as which area of the spine is injured. 
The part of the spine in the neck region is called the cervical spine. It is composed of 7 vertebrae, from C1 to C7. The C7 is located at the bottom of the neck, followed by C5 and C6 in the lower neck. These regions support the neck and offer flexibility to the head. Any injury in this area can make it hard even to perform simple tasks. 
While no one wants to have cervical spine surgery, it sometimes becomes essential. Your doctor will try different natural treatment methods on you first. But if they come out ineffective, surgery will be necessary. The recovery time will vary depending on the condition of your cervical spine. 
When Do You Need Neck Surgery?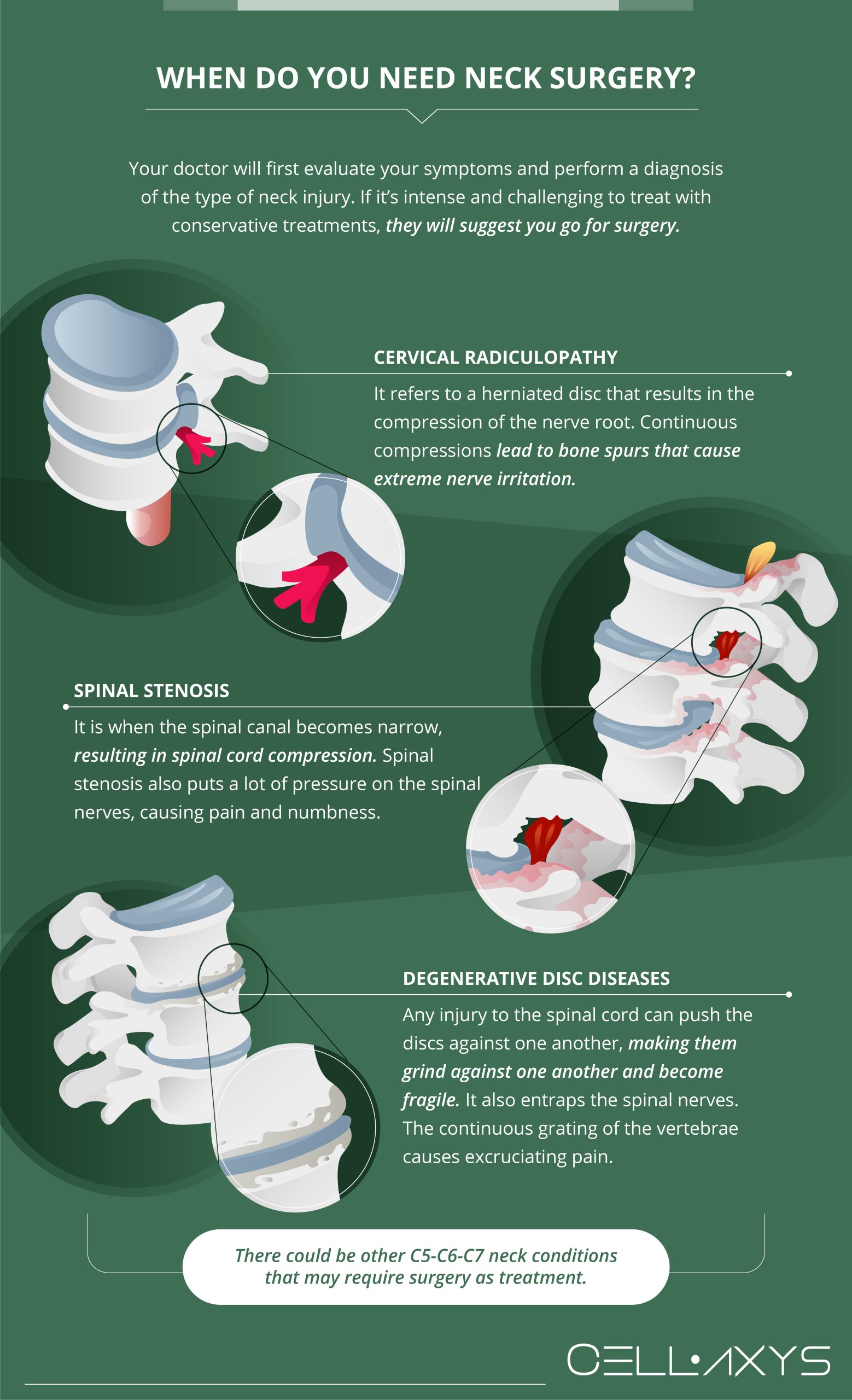 Your doctor will evaluate different factors to determine if you need neck surgery. They will first evaluate your symptoms and then perform a diagnosis of the type of neck injury you have. If it's intense and challenging to treat with conservative treatments, they will suggest you go for surgery. 
Some common neck conditions that require surgery are:
There could be other C5-C6-C7 neck conditions that may require surgery as treatment. 
Treating the C5-C6-C7 Neck Injury
Most neck injuries can be treated with conservative or non-surgical methods. But surgery becomes crucial if the symptoms don't improve with time or worsen. Many people also opt for another option, orthobiologic treatments, which are less invasive and painful and have a very short recovery time.
Surgical Methods
The purpose of neck surgery C5-C6-C7 is to relieve nerve irritation, improve neck stability, and prevent future injuries. Surgery is recommended for individuals with recurring neck pain and muscular issues that restrict their normal functioning. 
Common surgical methods include:
Your doctor will choose the type of surgery depending on the injury's location, extent, cause, and intensity. The healthcare provider may even perform multiple surgeries at once. 
Non-Surgical Methods
The common non-surgical methods for neck injuries include:
Orthobiologic Methods
The two most commonly performed orthobiologic treatments for C5-C6-C7 neck surgery are cell-based and platelet-rich plasma (PRP) therapy. Both are outpatient procedures, meaning you can go home after the process is completed. 
At CELLAXYS, we perform both orthobiologic treatments, depending on your condition.
Neck Surgery C5-C6-C7 Recovery Time
Whether you opt for surgery or orthobiologic treatments, you will feel immediate relief from neck injury symptoms, such as nerve irritation, weakness, numbness, and pain. However, you should practice self-care and physical therapy to strengthen your neck muscles and speed up recovery time.
The recovery time for C5-C6-C7 neck treatments is about 4 to 6 weeks. Full recovery may take months. You can shorten your recovery by maintaining a proper lifestyle and cooperating with your doctor. Even after your recovery process is completed, you should continue physical therapy and chiropractic care to prevent injuries in the future.