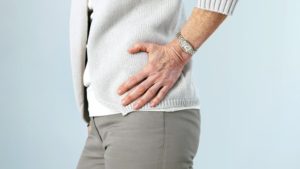 Soft tissue degradation is an unfortunate yet expected consequence of aging. The burden of everyday stress on these supporting tissues causes them to slowly wear down and, once they're gone, our bodies simply don't have the tools to bring them back. No parts of our bodies are at a higher risk of prematurely losing these soft tissues than weight-bearing joints such as the hip.
The added strain of carrying weight ensures that the soft tissues around the hip are under constant stress. As this stress breaks down the soft tissue (cartilage) surrounding the hip, everyday activities can start to become painful. When these pains persist for longer than a few days, it is more than likely that the sufferer is experiencing the onset of a lifelong condition known as osteoarthritis.
Osteoarthritis is the most common form of arthritis, affecting millions of people around the globe. As osteoarthritis takes hold, the cartilage which surrounds joints and provides a sort of frictionless motion starts to deteriorate. This deterioration only worsens over time and has been known to leave sufferers permanently immobile due to the pain it induces.
Although the underlying causes of osteoarthritis cannot be eliminated, the symptoms can be effectively managed. Using the latest in stem cell and PRP technologies, the doctors at CellAxys reduce the symptoms of osteoarthritis and help patients regain a higher range of motion, improve pain levels, and boost sleep quality more than other modern non-operative treatments.
The stem cell and PRP therapies offered at CellAxys have shown to be anti-inflammatory, anti-apoptotic (reduce cell death), and anti-fibrotic (reduce fibrous tissue formation). Additionally, the cells provided in these treatments can mature into cartilage, thereby replenishing degraded stores of the soft tissue in various areas throughout the body including the hip. These reparative qualities make the stem cell and PRP treatments offered by CellAxys ideal for controlling and reducing the effects of osteoarthritis.
Several studies have reported on the lasting effects associated with combined stem cell and PRP injections. In fact, in a recent study from Como, Italy, stem cell implantation was compared to surgery in a 2 year follow-up study. This study followed the outcomes of 194 patients; 77 patients had conventional hip surgery and the remaining 117 patients had stem cells implantation. At the 6 month post procedure time point, patients receiving stem cells were doing better when compared to the surgical patients.
This trend continued through the 2 year study. Patients receiving stem cell injections did better at the end of the study than patients who had conventional surgery. Dr. Fontana, the study's author, concluded, "The MAT (stem cell recipients) group showed long term improvement and scored significantly better than the MFx (conventional surgery) group over the 2-year period."
These results echo those from CellAxys patients who usually report results which last anywhere from 12 months to 4 years with PRP alone and typically 3-10 years when stem cells are combined with PRP.
Stem Cell therapies have already begun to change to face of Orthopedic and Spine medicine in Europe and are now beginning to make major impacts on patients' options in the United States.
If you are suffering from osteoarthritis of the hip and would like a consultation, do not hesitate to reach out to our offices.