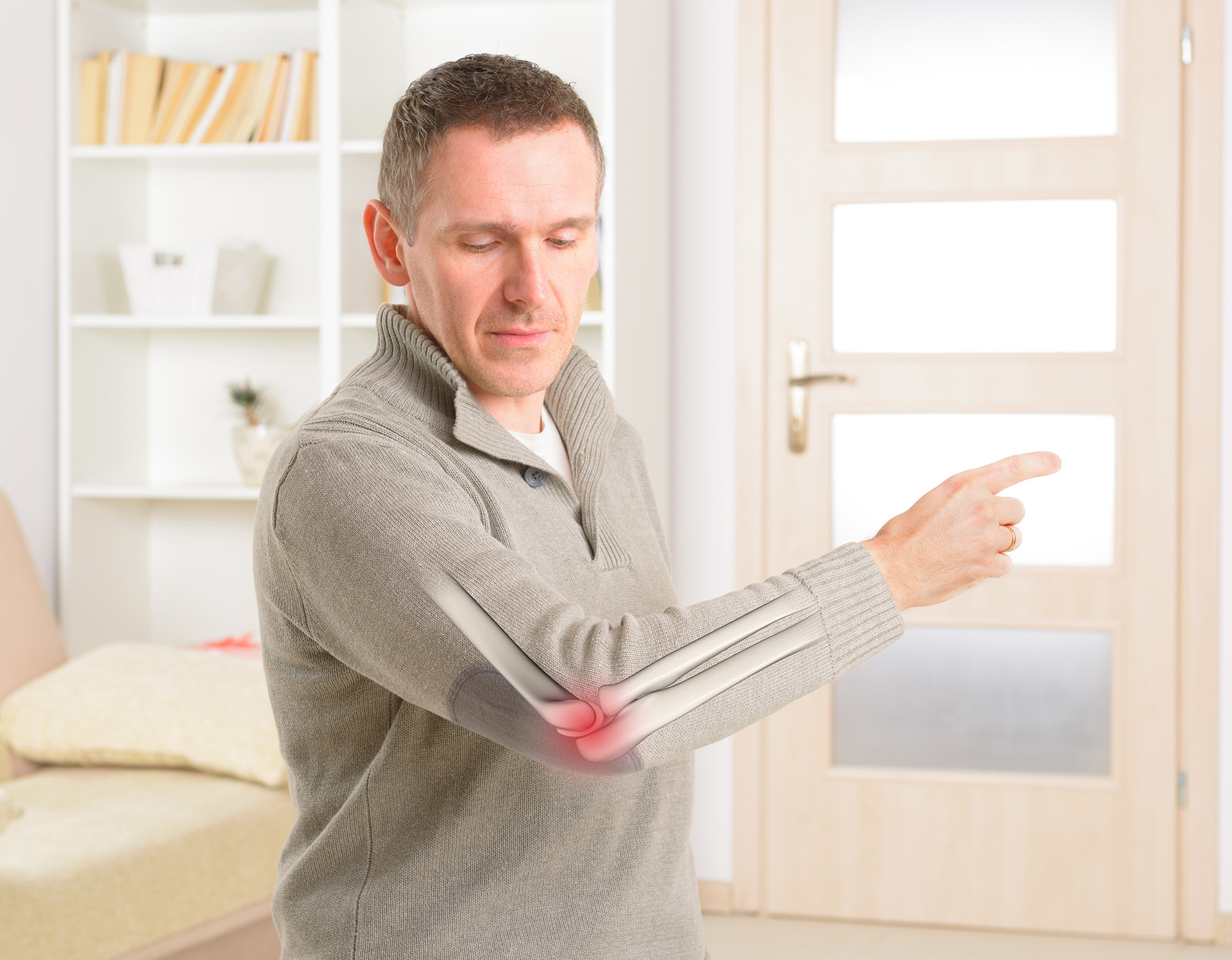 To justify surgical means, traditional orthopedic practices will often argue that there are no good alternatives to deal with elbow pain. In reality, surgical procedures are frequently as ineffective and dangerous as they are unnecessary. Dr. Otten, an ambassador of orthobiologic treatment for elbow problems, explains why surgery should be the last option on the list.
In order to understand why surgery is rarely the optimal treatment, it is first important to have an idea of why diagnosing and treating elbow pain is so complex.
After having interviewed Dr. Matthew Otten, an orthobiologics specialist who has performed over 30,000 therapies, I learned that elbow is one of the most complex joints in the body. "It bends, flex and twists," as the physician put it. "The elbow gets utilized in every single motion we do during the day."
Combining these two facts, it is no surprise that the elbow is prone to many different types of injuries.
The elbow can suffer from new (acute), injuries, as well as from old (chronic) ones. The elbow also develops arthritis over the course of time.
What's most important to understand is that the elbow is not a solid body part?
The joint itself is lined with something called articular cartilage—a tissue that prevents friction and preserves the bone—and is supported by many little ligaments that help support the elbow.
As in any structure with many moving parts, each one of them is subject to degradation or tear, causing injury and pain.
As in any structure with many moving parts, each one of them is subject to degradation or tear, causing injury and pain.
"Elbow pain is very difficult to diagnose"
One of the biggest challenges in diagnosing elbow pain correctly comes from the fact that any particular painful sensation can mean a number of things that could've gone wrong within the elbow area.
Correctly establishing which part exactly—or which combination of parts—is problematic, is not an easy task.
"There's deep-seated elbow pain, inside elbow pain, and outside elbow pain, as well as posterior elbow pain. All of the connected ligaments and tendons can affect this type of pain, as well as articular cartilage and how well the elbow moves can also cause pain and dysfunction," Dr. Otten told me.
The complexity of the diagnostic process with elbow pain is one of the main reasons why surgical approaches are not recommended: surgeries tackle very specific, isolated areas and carry serious health risks; what if the pain was diagnosed incorrectly?
A Natural Way to Regenerate Damaged Tissue or Bone
That's where the orthobiologic treatment comes in.
The general principle is this: our bodies already regenerate tissue and bone naturally through stem cells; the therapy is to merely accelerate this process and help our bodies allocate the resources where they're needed most.
It is true that stem cell and PRP (Platelet Rich Plasma) therapies are relatively new. Doctors have been using them for about 15-20 years now in Europe, and for about 7 here in the United States. Therefore, the evidence still mainly lies in the experience of doctors themselves, and is not studied academically in-depth.
Medical representatives, however, are extremely positive about the technology:
"The elbow responds exclusively well to PRP therapy as well as many different other orthobiologic therapies, including […] bone-marrow-derived stem cells," Dr. Otten said.
The best thing about the treatment is that it is very unlikely to cause a reaction from your body, and the recovery is fairly quick: "It takes 2-3 months to fully recuperate from these, as well as regenerate the tissue that we're looking to heal."
What Causes Elbow Pain?
When asked about what are the most common conditions that patients complain about, Dr. Otten says lateral epicondylitis, medial epicondylitis—or golfer's elbow and tennis elbow, respectively— triceps epicondylitis and tommy john tears are among the most popular causes.
One of the major conditions causing elbow pain is chronic common extensor tendinosis, otherwise known as lateral epicondylitis, also known as the tennis elbow. This tendon is responsible for lifting and twisting the wrist. It's prone to multiple overuse injuries, causing tendonitis, tendonosis, or partial tears.
All of these major problems respond exclusively well to orthobiologic therapies, including Stem Cells and PRPs.
Sign Up for an Initial Examination Today
During your live consultation with the CELLAXYS clinic, board certified physicians are going to look at your MRI and CT (X-ray) scans, and potentially even perform a live ultrasound to properly diagnose your problem.
Because of the complexity and difficulty to diagnose elbow problems, MRIs are very important to identify elbow problems properly—to diagnose the actual source of the pain. Ultrasound is a good alternative to diagnose soft tissue problems surrounding the elbow which are always offered during the consultations.
X-rays are important in diagnosing elbow problems in regard to arthritis lying within the elbow. It's crucial to combine ultrasound, MRI and X-rays in a proper diagnosis of the elbow problem.
"It's important, however, during the procedure, we have to use either live X-ray or live ultrasound during the injection process. Sometimes, the doctors will even use the combination of the two to properly locate the source of the injury," Dr. Otten concludes.