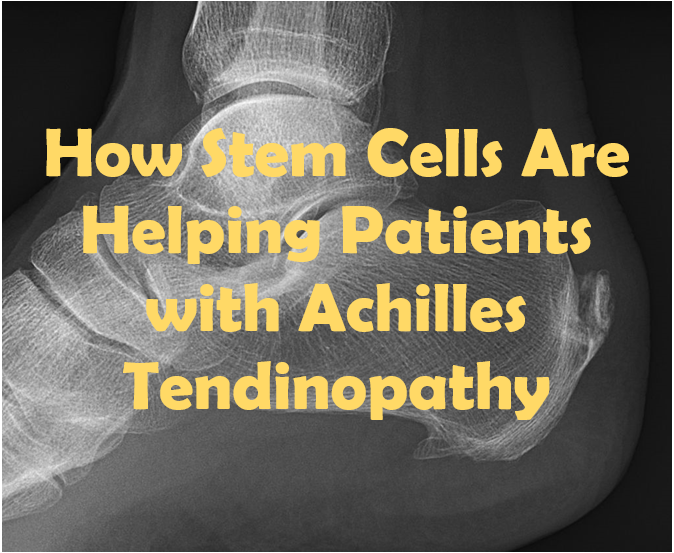 The Achilles tendon is a band of tissue that connects the heel to the calf muscles. Achilles tendinopathy is a common condition that occurs with its overuse and may result from an individual incident or through repetitive trauma. It is usually accompanied by pain and swelling and can make it difficult for athletes to perform well because of reduced functioning of the foot or ankle.
Unfortunately, conservative treatment options, which include types of exercise, electrotherapy, and non-steroidal anti-inflammatory drugs, have proven ineffective or minimally effective in many patients. More aggressive treatments, such as surgery, may lead to better results but are often undesirable because of their invasive nature, complication rate, and the frequent need for multiple procedures.
There is relatively new evidence, however, that stem cells can be used to treat Achilles tendinopathy and early case studies describing the results of corresponding procedures are promising. One such case study was recently performed in San Diego on a 16-year old female basketball player who, after suffering from progressively worse heel pain for 2 years, was diagnosed with Achilles tendinopathy. She had tried some conservative treatment, but the pain, swelling, and limitations on her range of motion persisted.
Further testing revealed that the patient also had a partial tear in the tendon regions. Her orthobiologic specialists decided to treat the patient with a type of injection known as Lipogems, which allows the doctors to use stem cells derived from fat tissue to help stimulate the repair of tissue like that found in the Achilles tendon.
The procedure, also referred to as lipoaspirate, uses an ultrasound to guide the stem cells to the optimal location. This technique is thought to help with the proliferation of healthy cells in the tendons and the generation of new blood vessels that can help the tendon heal.
In this case, Lipogems had resolved the patient's pain and restored her physical functioning by her 6-month follow-up examination. Imaging studies of her tendon also suggested that the fibers in her tendon had regenerated.
Given the success of stem cell procedures to treat a wide variety of orthopedic conditions and the encouraging results of case studies such as this one, further research will likely be undertaken to confirm the potential benefits of stem cells in patients with Achilles tendinopathy. More data will also help physicians determine how best to use these stem cells to optimize outcomes for their patients.
References
Saray-Logan, B & Rogers C. Treatment of achilles tendon partial tear with lipoaspirate (Lipogems).
de Jonge S, de Vos RJ, Weir A, et al. One-year follow-up of platelet-rich plasma treatment in chronic Achilles tendinopathy: a double-blind randomized placebo-controlled trial. Am J Sports Med. 2011;39(8):1623-1629. doi:10.1177/0363546511404877
Gaweda K, Tarczynska M, Krzyzanowski W. Treatment of Achilles tendinopathy with platelet-rich plasma. Int J Sports Med. 2010;31(8):577-583. doi:10.1055/s-0030-1255028
de Vos RJ, Weir A, van Schie HTM, et al. Platelet-rich plasma injection for chronic Achilles tendinopathy: a randomized controlled trial. JAMA. 2010;303(2):144-149. doi:10.1001/jama.2009.1986
Randelli P, Menon A, Ragone V, et al. Lipogems Product Treatment Increases the Proliferation Rate of Human Tendon Stem Cells without Affecting Their Stemness and Differentiation Capability. Stem Cells Int. 2016;2016:4373410. doi:10.1155/2016/4373410
Tremolada C, Colombo V, Ventura C. Adipose Tissue and Mesenchymal Stem Cells: State of the Art and Lipogems(R) Technology Development. Curr stem cell reports. 2016;2:304-312. doi:10.1007/s40778-016-0053-5